LA County EID Concept of Operations (CONOPS)
Region:

Los Angeles County
Source:

Los Angeles County Department of Public Health (LACDPH)
Resource Updated:

Jul. 01, 2018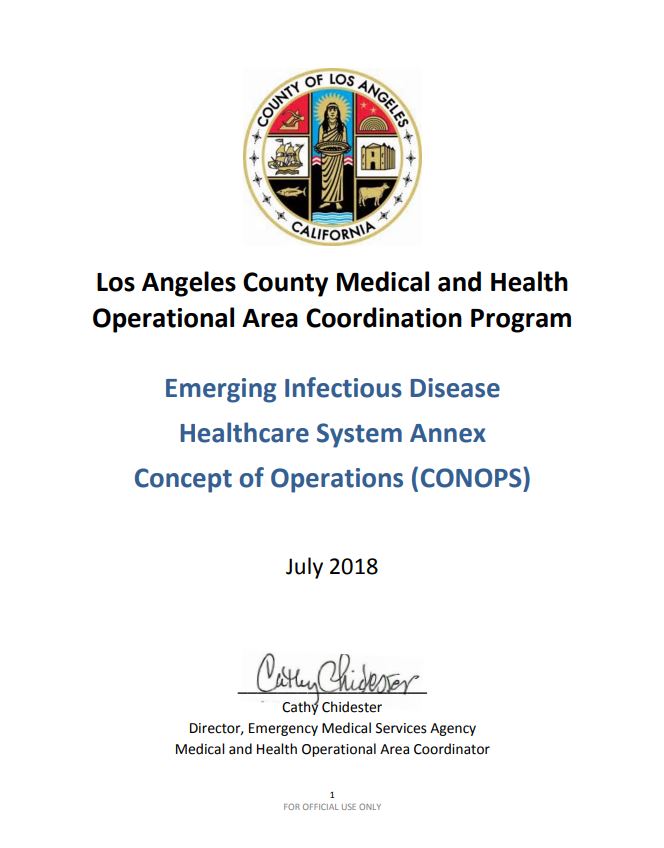 About this Resource
Document detailing the Health and Medical Concept of Operations (CONOPS) for a range of Emerging Infectious Disease events in Los Angeles County. Serves as a hazard-specific annex to the Medical and Health Operational Area Coordination (MHOAC) Program Manual.
Audience
Medical and health agencies interested in how Los Angeles County responds to an emerging infectious disease threat, this resource describes the goals, objectives, strategies, and responsibilities necessary to provide a coordinated, system-based healthcare response.
Key Takeaways
Mission areas to coordinate response actions based on resource requirements
Operational tactics including mission goals, command objectives, and strategies
Appendices that provide specific guidance and direction to various response audiences—agencies, facilities and clinicians
Find related resources on...