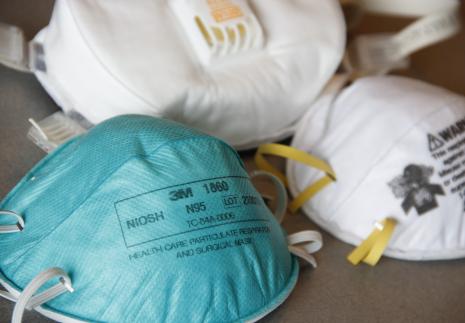 Starting and Managing a Respiratory Program in California
The resources in this collection will help you develop a written preparedness plan and training program for responding to a variety of respiratory pathogens in your hospital, long-term care facility, or other California workplace setting where respirators are used.
1. What is a respiratory program?
If your employees wear PPE in the workplace, California requires your operation to have a respiratory projection program with both a written and a training component that sets use guidelines specific to your facility.
To make a safer workplace for employees, the California Code of Regulations sets standards for controlling occupational diseases that are caused by breathing contaminated air, including respiratory pathogens.
These standards cover engineering methods of pathogen control to use in your in facilities, such as containment enclosures and ventilation, as well as when respirators are appropriate and what kinds should be used for which situations. California employers are also responsible for developing a written respiratory protection program, with worksite-specific procedures and instructions for respirator use.
---
2. Developing a Program for Your Facility
The California Department of Industrial Relations Division of Occupational Safety and Health (CAL OSHA) has published a guide for employers who are working to comply with these standards.
It offers a helpful overview on:
When the standards for respiratory control measures apply
How to design a respiratory protection program for your operation
Elements to include in your written respirator or training program
Types of respirators and their applications.
Written Respiratory Protection Program Template
If you need help creating or updating the written component of your program to comply with the requirements, the California Department of Public Health has published a customizable template you can edit to meet your facility's specific needs.
It includes responsibilities for the program administrator and other roles involved with the program, a section on when to use respirators and how to assess hazards, and customizable sections on training staff members on respirator use, fit testing, storage, maintenance, and care of equipment. 
Exercise Templates to Use in Training
Several organizations offer templates you can customize to your facility that will help you design and lead your own training programs. Use these to help your staff members practice using your respiratory protection plan to effectively identify, assess, treat, manage, transport, and transfer high-risk patients in a respiratory pathogen event. 
The National Emerging Special Pathogen Training and Education Center (NETEC)'s customizable exercise templates have examples you can use to run drills, tabletops, functional, and full-scale exercises. The Centers for Disease Control has published some free training modules that are especially designed for long-term care facilities.
---
3. Refer to LA County's Response Plan
For information on how Los Angeles County responds in the event of a threat, refer to its Emerging Infectious Disease Concept of Operations (CONOPS) plan. This describes the goals, strategies, and responsibilities for providing a coordinated and system-based healthcare response. Los Angeles County Emerging Infectious Disease Concept of Operations details its official response plan.